Polynauts Central: (2/10 Archived)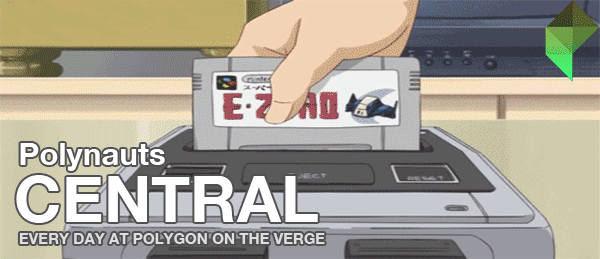 Today's header image brought to you by LulzJager. Poor Super Famicom...
Today is Tuesday, October 2nd and you've found yourself at Polynauts Central: Console Rage Edition at Polygon, on The Verge.
FROM POLYGON
1: "'Resident Evil 6' review: biohazardous waste" by Philip Kollar
"Did you stop liking the series after Resident Evil 4? You can play as rookie cop turned secret service agent Leon in a small-town setting inspired by the devastated Raccoon City from the first three games. Do you prefer Resident Evil 5's more action-heavy focus? Check out original Resident Evil protagonist Chris' militaristic, globe-trotting storyline. Mysterious mercenary Jake's campaign even has clear nods to Resident Evil 3's unstoppable Nemesis."
2: "The death of arcade could mean the future of out-of-home gaming" by Brian Crecente
"Arcades haven't died, they've just become so ubiquitous, so entwined in our everyday entertainment experiences that we may not recognize that our visit to a museum, an amusement park, a restaurant or a movie theater is actually another trip to the arcade.

Or at least that's the idea behind the burgeoning Digital Out-of-Home Interactive Entertainment Network Association, a collective of movie theaters, amusement parks, arcades and restaurants brought together by their common interest in and use of video games."
3: "'Pokemon Black and White 2' review: a familiar shade of grey" by Griffin McElroy
"Pokemon Black and White 2 isn't a rehash, despite its unchanged title and setting. There's a new plot, which for better and worse doesn't resemble that of the original Black and White. There are an enormous, unprecedented number of Pokemon to capture and train. It's all wrapped in a package which still closely resembles the very first installment in the franchise — but Pokemon Black and White 2 possess some of the best ideas to come to the series so far."
4: "Hideo Kojima will keep creating games until he achieves his original vision" by Dave Tach
""The amount of tools I have available to me has changed, it's increased," Kojima said. "I have more colors available to me in my palette, I have more tools available to me. But I still haven't been able to achieve that original image that I had in my head. And until I'm able to achieve that I'll keep on creating games."

In the interview, Kojima reflects back on the last 25 years, explains how his method of storytelling in games has evolved, and reveals his frustration with an industry in which many games feel too similar."
5: "'Oddworld: Stranger's Wrath HD' coming to PlayStation Vita this November, no progress on Xbox Live version" by Alexa Ray Corriea
"Oddworld: Stranger's Wrath HD is coming to PlayStation Vita early or mid-November "at the latest," developer Just Add Water CEO Stewart Gilray said in a recent interview with Eurogamer.

The Vita version of the hi-def upgrade of Stranger's Wrath is two weeks away from being ready for submission to Sony, Gilray said."

FROM THE POLYNAUTS FORUMS:
1: "Pandaland: Visit or boycott?" by ottermann
"Now, I've been WoW free for quite a while. But I had a lot of time invested, a lot of fun was had, and countless hours were spent immersed in the time sink of Azeroth. But with the release of MoP, my hotkey fingers are twitchy again."
2: "Polynaut Souls: Demon's Souls & Dark Souls discussion" by CoffeeJezus
"Given that we have a few fans of the games on the forum, and that the weekend thread received three separate strands of discussion, I thought it would be neat to create a thread! Herein we can chat about favourite stuff, moments and experiences, the lore and perhaps help those folks out who have either recently started or tempted to delve in."
3: "Polytips: How to score more in Jetpack Joyride" by rahul247rocks
"Jetpack Joyride is one of the best adventurous game that provides the gamer with immense fun. The game can be played by any age group and Halfbrick Games made sure that they design it in such a way so that you can enjoy it for hours and never feel anything repetitive. One question that most of you were asking me is how to score more or rather how to travel greater distances using your Jetpack. Well, in order to answer this question I thought I would write an article and let you know about all the tips and tricks required to master Jetpack Joyride. If you follow aloof my instructions correctly then you are definitely going to go further than 2000m and get a good rank in the Game Center listings."
FROM THE VERGE:
Adrianne Jeffries brings you the latest '0x5A Seconds on The Verge'.
POLYNAUTS COMMENT OF THE DAY (2/10):
LulzJager (4 Recommends)
Every day there will only be one comment from the previous thread. It's decided based upon the most recommends an individual receives for their comment; should two people have the same rating then both comments will be posted.
Okay, there we have another day's worth of catch-ups folks. Remember to sound off in the comments below and share any awesome news you find today. As always check out the @Polygon feed on Twitter to keep up to date. There's also our own @Polynauts twitter feed. Alternatively, you can chat with @shaunmcilroy if you miss him and wish to contact him throughout the day. If you, for some reason, want to chat with me, you can look for 'Salias' (It's the user that matches my avatar here) on Steam, as I generally always have the Steam client open if my computer is on.
NOTES:
New to the Polygon Community? Please take time to read the Polygon Community Handbook. It contains a handy bunch of information on how to get the most out of the community.
If you want to connect with fellow Polygon community members via another method of communication other than the forums, click here.
If you're a fan of the image up top and want to submit your own, remember to keep them coming in for this section of Polynauts Central, GIF's included, at this link. Finally, if you want to submit a header image for Crisis on Infinite Polygons you can do that on this thread.