Android Tablet apps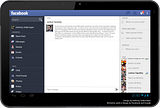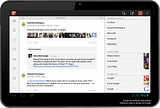 Update: I've gone on to do a tablet optimized design for the Facebook Android app as well and have therefore renamed this thread so that I can include it all in one place. The Facebook app has several screens depicting different states. Apologies to Joshua Topolsky for using a lot of his public info in the design (timeline, etc.). There will probably be a Twitter design coming soon as well.
Many people have complained about the lack of tablet customization for Android apps. One of the worst offenders is Google and the Google+ app is just atrocious on a tablet. I have started doing some app design work in my day to day job and I thought I'd play around with designing a tablet optimized layout for Google+. When Google updated the UI of the web version I was already part way into the design and decided to take some inspiration from the new UI and bring it to a tablet.
Let me know what you think. I left out the whitespace, though.
This was done in Photoshop with Google's excellent UI resources and elements from the web version of Google+.