Facebook is the best, Facebook is the worst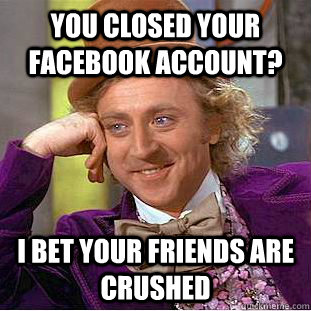 I deactivated (but not deleted) my Facebook account a few months ago. Leaving Facebook was a personal decision and it turns out it was a bit personal for everyone. I didn't expect that. People simply expect that you are on Facebook. So my friends (in real life) will often start telling a story or asking if I had seem something on the 'book, but then they usually catch themselves and then give me some gentle ribbing.
Sometimes there is a hint of personally offence by me not being on their social network. To a large extent, that is really valid- it would be super annoying if one of my friends swore off cell phones. It makes me think that I should hop back on their network. I'm not the only one that has put Facebook in their past, however, leaving can have its downsides.
"I have to admit that Facebook is a great tool"
Most of my friends are on Facebook, it's really convenient and it makes sense in the age of the internet. So I have to admit that Facebook is a great tool. On Facebook, you can pretty easily get a hold of anyone on the service. Contrast that with managing email addresses yourself- sometimes I'm not sure that a certain address is active or that the recipient will get my message. Email can seem so formal when reconnecting with old friends, whereas status updates are a great way for conversations to emerge with folks you haven't spoken to in a while. There are a lot of positives to FB. But there is one thing that makes Facebook king.
Facebook is huge.
Everyone is on Facebook. Because of this size advantage, there is no proper competitor to Facebook. There is no single service that can replace Facebook (at least for me). I have a handful of friends on Twitter, a few more on Google+, but most of the people I know don't care to keep up with multiple social networks. My own wife thinks it pretty resistant to branching out to other services. Lucky for me, she can let me know if something important was announced via Facebook.
The population of Facebook, to me, is really the only thing that makes Facebook special. Other networks have status updates and photo sharing and chat functionality. Even if they do those things twice as good as FB, it doesn't matter if since they don't have a critical mass. Facebook must know this, but they seem to project that other attributes besides its size differentiate it. And this projection comes though with each successive update.
"Don't force me into weird social construct"
I think that Mark Zuckerberg really thinks that he is helping to shape and redefine relationships in the digital age. He wants us to be more true to our one authentic identity. But how relationships and interaction work in Facebook are not how they work in real life. Josh Topolsky, had this to say on the topic of Facebook trying to change the way we interact-"Advertise to me all you want, but don't force me into some weird social construct that you think is 'the way it should be.'"
Is Topolsky a hammer? Because he nailed it. FB is a rigid walled garden. In their garden, you have to follow their rules. And the how the garden works keeps getting weirder (with concerning privacy implications). Like I said before, "I can see Facebook wants to take a bigger role. It wants to be more than my interactive contact book/email hybrid. It wants to be my life partner."
FB continues to brush up on its non-size differentiators and bought the makers of the hugely popular iPhone and Android app, Instagram for $1 billion. I thought it was interesting news, but didn't dwell on it since I use neither Instagram nor Facebook. I was really surprised by the reaction the news got from Engadget and gdgt founder Peter Rojas-
Uninstalling Instagram....

— Peter Rojas (@peterrojas) April 9, 2012
I am super happy for those guys to get a big exit, just won't use any product owned by Facebook.

— Peter Rojas (@peterrojas) April 9, 2012
Because people are asking: I don't trust Facebook to do the right thing when it comes to its users, so I don't use it.

— Peter Rojas (@peterrojas) April 9, 2012
Most people disagree, but I think it's impt to not use services that you have issues with, even if they are free.

— Peter Rojas (@peterrojas) April 9, 2012
That, I think, is why I ultimately left. I didn't think Facebook was doing or planned to do right by me. Again, they don't seem super concerned about their current users, but rather, those users altered, awakened future selves. They might not like the changes now, but once they really get it, they will transcend into a new level of digitized, relational bliss.
"One day you can import all of your Gmail contacts into Facebook and the next day try to export those out and they would not let you do that"
That all might not be so bad if there was any hope that Facebook would act like an open network or a service akin to email. You choose your social network provider, and you can still connect with others on different networks.
It's a beautiful dream that only ends with you waking up to a reality that sucks. Think about it, instant messaging clients don't even talk to each other. Larry Page had this to say about integrating AOL Instant Messenger with Google Talk-
We were real interested in getting instant messaging to work across networks back in the day, and we worked really hard with AOL to do that. You know, integration between Google Talk and AOL Instant Messaging. It ended up being a tremendous amount of technical effort. There were some user benefits generated by it, but I'm not sure it was ultimately worth the effort.
On top of that, Facebook is fiercely protective of its (your?) data. Larry Page, when talking about Facebook, said this-
We would love to have better access to data that's out there. We find it frustrating that we don't. It's the tendency of the Internet to move into a well-guarded state. We've pushed pretty hard, for example, around just having contact reciprocity. I mean, our friends at Facebook have imported many, many, many Gmail addresses and exported zero addresses. And they claim that users don't own that data, which is a totally specious claim. It's completely unreasonable.

One day you can import all of your Gmail contacts into Facebook and the next day try to export those out and they would not let you do that. It's clearly for competitive reasons that they do that.
I wish I had better control of my data on my social networks. Others have had the same idea. There is a project in the works for a distributed social network where you control your data directly, but that's still a long, long ways off. That is another beautiful dream.
In the end, I want to return to Facebook- it's the best social network by virtue of being the biggest social network- but I don't like what they are doing or the direction they are going. So I'll keep my account in deactivation limbo- caught between Facebook being the best thing and the worst.
-Originally posted here-