Polynauts Central (30/8 Archived)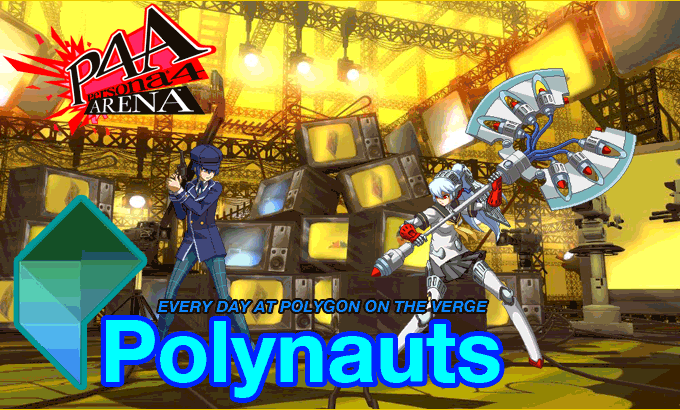 Todays image comes from LazyAlchemist, the fourth chosen entry in this weeks header pics contest.
Welcome to Polynauts Central. It's August 30th and here we are on the homeward stretch. Another week is nearly over, so like clockwork lets 'rotate the board' and fill todays Polynauts Central with some Numberwang.
Please take note that if you're into comics, manga and anime and want a nice organised place to talk about those, then head on over to Crisis on Infinite Polygons Issue #3 for chaosbirdomaid's all-in-one thread.
If you want to talk game related art - or even art in general but be sure to head over to Paradox mes' thread The Polygon Gallery of Fine Arts and grab yourself some cheese, grapes and a glass of wine.
If you want to talk about, or discover new music then Shinta has a thread for you called Music.
FROM POLYGON
1: Press Reset Episode One: 'You've got to be certifiable' by Polygon Staff
When the idea of making a series that would eventually become Press Reset was brought to me, I saw it as a unique opportunity to witness the birth of a new thing from the inside.

Today, we have the luxury of interacting with products and services without having to consider where they come from, or be aware of the inspiration, creativity and compromises that shaped those things we enjoy. Yet now, more than ever, we see ideas springing up across the world and get to assist in the funding or providing feedback that will eventually bring those ideas to life.

Rarely do we get a chance to see the in-between: The late nights; the frustration; teams working together from remote locations; features that didn't make the cut; last-minute changes; near-derailment; minor victories.

With Press Reset, we get that chance. The Polygon team is working to build what they hope will be a big, new thing. They're coming from different backgrounds, with different philosophies and different areas of expertise, but they all share one thing: the desire to start with a blank page and make something. Press Reset will be the record of their experiment.
2: Metal Gear movie being made by Columbia Pictures by Tracey Lien
A Metal Gear movie is in the works, according to an announcement made at the Metal Gear 25th Anniversary Party held today in Tokyo.

During the party Metal Gear creator Hideo Kojima was joined on stage by the CEO and founder of Marvel Studios (Iron Man, The Incredible Hulk, and most recent, Marvel's The Avengers), Avi Arad, who confirmed that he will be making the film with Columbia Pictures
3 'Metal Gear: Ground Zeroes' announced, will debut FOX Engine by Tracey Lien
The next game in the Metal Gear series will be Metal Gear: Ground Zeroes, according to an announcement that was made today at the Metal Gear 25th Anniversary Party.

The announcement was meant to be embargoed and media were not meant to tweet about it, however, the news leaked via Twitter, revealing that the game was being made in the Fox Engine.

Few details are known about the game, but it is believed that it will be open-world.

We will update this story when more information is available.
4: The countdown to Steam Greenlight by Tracey Lien
Steam Greenlight, a service that game publisher Valve announced back in July that allows members of the community to vote on which games they'd like to see on Steam, is launching tomorrow.

For the first time since Steam's inception, any game developer will be able to submit their game to the service for the Steam community to decide whether the game should appear on one of the world's most popular PC and Mac gaming platforms. As the countdown to Steam Greenlight's launch nears an end, many independent developers are excitedly polishing their games for submission.
5: Why Plastic Piranha's 'Rekoil' is a perfect fit for Steam Greenlight by Samit Sarkar
Rekoil, a multiplayer first-person shooter, made a splash at E3, and developer Plastic Piranha felt that the positive buzz would be enough to get the game noticed. The studio was right - Valve came calling, giving Plastic Piranha the hope that Rekoil would be sold on Steam.

But Valve had a slightly different idea. According to Kevin Dent, a business-development executive working to bring Rekoil to market, Valve requested that Plastic Piranha go through Steam Greenlight, its upcoming community-driven system for picking games to be distributed on Steam.
FROM THE POLYNAUTS FORUMS:
1: Polynauts Play Revelations 2012! by PaddyStardust
Hello again! Once more, Shaun and I have been playing something for your entertainment. This time, thanks in part to our own NuclearPrinny, we got to play Revelations 2012, a Mayan first person shooter! It's a pretty awesome game, and I think you guys will enjoy watching the exciting developments!

Can I stop with the lies about this awful, awful game yet? Please?
2: What's Your Gaming Budget? by GiantBoyDetective
I know a lot of gamers are younger folks. Many gamers are still in school, still living at home, or unemployed, but I'm curious to know how much everyone drops monthly or yearly (if you want to take a guess) on video games.
3: What's That Game You Have That Nobody Seems To Be Playing, Even Though You Want Them To? by DocSeuss
So! Orcs Must Die 2 DLC just hit today, and I'm all pumped, because Orcs Must Die 2 is currently my pick for Game of the Year, as insane as that sounds... aaaaand then I realized that Salias and I are the only Polynauts I am aware of who own Orcs Must Die 2. Over on GAF, someone posted the list of games currently being on Steam the other day, and OMD2 was fairly low... but Payday: The Heist was even lower.

So those games frustrate me, because I wish more of my friends played 'em. I'd love to do some co-op on Payday with people, and I have a blast trying to raise my score in Orcs Must Die 2 so I can top my Steam friends on the leaderboards.

What about you? Surely I'm not the only guy who feels this way.
4: Metal Gear Solid movie announced, thoughts? by BreadKnight
So....Yeah....Thoughts? I did love how Avi Arad handled Amazing Spider-Man so this could be great.
5: Guild Wars 2 - Beginners Tips Needed! by MattBrooks
So I have been playing GW2 since Saturday, and have racked up about 15 hours on my Silvari Ranger, now level 21. The issue is - im terrible at the game. I keep going down and dying, even when fighting a small number of enemies at once. Im not sure if its that the Ranger is a particularly hard class to play, im using ranged weapons so generally im just retreating from enemies and trying to take them down, but im getting consistently outclassed, even when I go to areas where im downleveled.

So im hoping someone will have some useful beginners advice for me. Im not overly experienced with MMO's so im wondering if there is just some basic knowledge or tips/ advice that any one has for a new player?
REMINDER: Polygon.com : Community Requests Thread by Shaun McIlroy
This is our "Official Polynauts" topic for Polygon.com requests, those which we've all made mention of in anticipation of the sites launch in 2012. I thought I'd collate them all here for the Polygon team to check back and see if the stars align with their overall plans, whatever they may be.
CONTEST #1
Don't forget Pitseleh0's contest, which began on Monday:
"We seem to be lacking on the header pic submissions. Let's get cracking people!

So I'd like to venture something if I could. Totally unofficial, but I'd like to sponsor a contest.

Shop up a header pic and submit it in the usual spot here.

The pics would be chosen daily as normal (by Shaun and Paddy) and then of the choices for all of next week (starting this Mon running until next Sat) I will choose my favorite of the 6.

That person will get a 3 Month Xbox Live code as a reward. Go get to it! Let's liven up this place!"
CONTEST #2
And remember OMGMoreJames's contest, which also began on Monday:
For the next six days all winners of COTD will be entered into a vote to take place on Sunday. That winner will be the commenter of the week.

That person will get a 3 Month Xbox Live code as a reward."
FROM THE VERGE:
Whilst in Berlin Vlad Savov brought us the latest tech news in 90 Seconds on The Verge.
POLYNAUTS COMMENT OF THE DAY (29/8):
"Usher can dance circles around EVERYONE!"
....and that kids, is why they call it the xbox 360.

Foxmcloud555 (6 Recommends)
Every day there will only be one comment from the previous thread. It's decided based upon the most recommends an individual receives for their comment; should two people have the same rating then both comments will be posted.
Okay, there we have another days worth of catch-ups folks. Remember to sound off in the comments below and share any awesome news you find today. As always, feel free to hit me up on Twitter @shaunmcilroy if you want to chitchat throughout the day.
NOTES:
New to the Polygon Community? Please take time to read the Community Guidelines as laid out by the editorial team here at The Verge. Particularly take note here: "Foul language: Cussing, swearing, or just plain nasty: all of the above are not cool here." That goes for NSFW material as well folks.
If you're looking the best way to filter through any current deals on games (regardless of platform) then check out The Gamers Grid created by community Polynaut, NuclearPrinny.
If you're a fan of the image up top and want to submit your own, remember to keep them coming in for this section of Polynauts Central, GIF's included, at this link. Finally, if you want to submit a header image for Crisis on Infinite Polygons you can do that on this thread.