Verge Open Thread: August 6th, 2012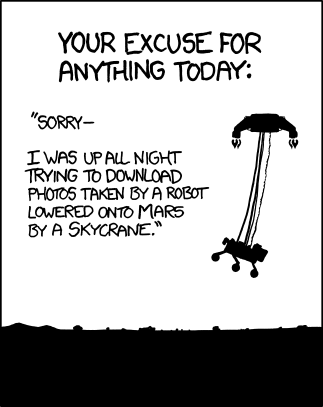 It's Monday, August 6th, 2012. I'm Sam Sheffer, and we're about to spend some quality time together discussing some technology news.
90 Seconds on The Verge
Adi Robertson: Friday, August 4th, 2012
News from The Verge
Curiosity rover successfully lands on Mars, sends back first images
After a journey spanning 36 weeks and 352 million miles, NASA's Curiosity rover successfully landed on the surface of Mars at approximately 1.32AM ET.
HTC preparing a 5-inch phone with 1080p display for September, say reports
HTC is reputedly working on cramming Full HD resolution into its next flagship smartphone, a purported 5-inch device that is expected to launch in either September or October.
Qualcomm hires Intel's former face of Atom as Chief Marketing Officer
Anand Chandrasekher, formerly an Intel Senior VP and leader of that company's Ultra Mobility Group, has returned to the fray of mobile computing in a new position as Chief Marketing Officer for Qualcomm.
BBC's Olympics website breaks records of its own with 29 million video requests
Engagement has been a particular strong suit, with 17 million people having watched at least 15 minutes of footage from the company's 24 "Red Button" livestreams. In total, the BBC has seen 29 million requests for Olympics video content.
Usain Bolt vs. 116 years of Olympic sprinters
The New York Times has published an incredible series of visualizations, using 3D models to compare today's top sprinters, swimmers, and long jumpers with athletes from every Olympic Games since 1896.
Nokia rumored to announce Windows Phone 8 devices 'as early as' next month
Chinese site WPDang originally reported that Nokia will likely introduce two Lumia Windows Phone 8 handsets on September 5th, but Bloomberg is backing up the rumor somewhat. "A person with knowledge of the matter," has revealed to Bloomberg that Nokia may announce its Windows Phone 8 handsets "as early as" its Nokia World event next month.
The Verge Features
The best tech writing of the week, August 5th
From the Forums
Why Microsoft should call its new UI Mosaic!
Share your favorite smartphone-taken pictures!
The best non gmail email client.
Video
Around the web