Polynauts Central (7/9 Archived)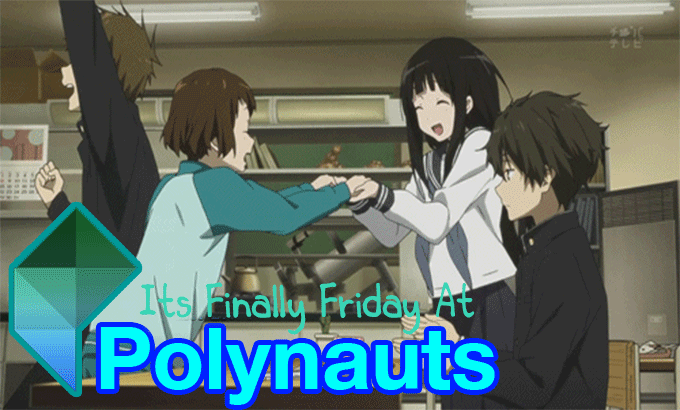 Todays celebration is brought to you by Lulzjager, master of GIFs.
It's September 7th and we're having a party here on Polynauts Central. I'll have a few drinks for you all later on this evening after my shift, but until then I'll be passing out the pop-pop here at the dry bar. Swing by for a chat.
Alert! If you're into comics, manga and anime and want a nice organised place to talk about those, then head on over to Crisis on Infinite Polygons Issue #3 for chaosbirdomaid's all-in-one thread.
If you want to talk game related art - or even art in general but be sure to head over to the thread by Paradox Me called The Polygon Gallery of Fine Arts and grab yourself some cheese, olives and a glass of wine.
If you want to talk about, or discover new music then Shinta has a thread for you simply called Music.
If you want to talk about any movies or television shows with fear of spoilers then go to PrinceLUDA21's Polynauts: The Movie: Episode 1 thread.
FROM POLYGON
1: 'Guild Wars 2' review: second coming by Phil Kollar
PVP is complemented by the World-versus-World tug of war, which pits three servers against each other for control of territories on four persistent maps. These zones are gigantic, requiring planning, flanking, and siege weapons if you want to reap long-term, server-wide benefits. Five-minute skirmishes in PvP and hours-long WvW encounters alike are testament to Guild Wars 2's invention and execution.
2: Ubisoft confirms 'Ghost Recon Online' for Wii U is 'on hold' indefinitely by Alexa Ray Corriea
Producer Theo Sanders said that the team halted development on the Wii U game, announced at E3 2011 after the console's unveiling, to focus on its PC version, both of which they were working on in tandem at Ubisoft Shanghai.

"As of right now, the entire Ghost Recon team is focused on the PC version only," Sanders said. "The Wii U version is on hold. If in the future we have an opportunity to address it again, we'll make future announcements. But as of right now we're focused completely on the PC version."
3: GameStop to sell Wikipad gaming tablet on October 31st for $499 by Sean Hollister
The Wikipad has had quite a ride. In January, it was a small no-name Android 4.0 tablet with an unproven processor, a glasses-free 3D screen, an optional game controller attachment, and a sub-$250 price. Eight months later, the likes of Sony and Nvidia are backing a rather different Android 4.1 gaming slate that will retail at brick and mortar GameStop stores for $499.
4: How the 'Mark of the Ninja' designer stayed true to the dark art by Russ Frushtick
Bringing a stealth game into side-scrolling 2D, and not the top-down 2D of the original Metal Gear games, is far trickier than it first might seem. Anderson gave the example of the classic stealth gameplay moment where a guard is walking down a hallway and you are hiding around the corner. But in 2D, there are no corners to hide around. Everyone is on the same plane. So how do you get around that? The team struggled to make it work.

"There was definitely a point of time where we were not sure if the game was ever going to be good or if Microsoft would pull the plug," said Anderson. "We had a lot to figure out and the bits weren't fitting together."
5: Stardock employee accused of deleting company files after she files sexual harassment suit by Tracey Lien
Alexandra Miseta was a marketing manager at Stardock from June 4th, 2007 to August 3rd, 2010, when the company alleges she quit without notice and wiped important marketing data from her computer, which Stardock believes played a role in Elemental: War of Magic's poor performance at retail. Last month, the company began legal proceedings against Miseta, claiming that her actions cost Stardock to lose $1 million in profits.
FROM THE POLYNAUTS FORUMS:
1: It's not a real print magazine, but it'll do! by thedz
I take photos at many StarCraft and Blizzard events, and recently a digital only StarCraft magazine decided to feature my photography on their cover and throughout their content as well.

Was a pretty sweet feeling!
2: What are your favorite console/game boot screens? by Shaun McIlroy
We've talked about many a thing here on the Polygon/The Verge forums but today I'd like to pay tribute to our old friend - the boot sequence.

I've posted a YouTube video below which showcases the various iterations of the PlayStation console boot sequence across all three generations of their home console to start things of.

Boy, do I wish they hadn't changed the PlayStation 3 from its original version as I feel it was a more elegant sequence than the current one Sony employs. Thoughts?
MW3 CHAOS PACK DLC CONTEST #2 - ENDED:
This contest has now ended and a winner will be announced in the thread later today.
FROM THE VERGE:
Sean 'The Voice' Hollister brings you the latest tech news in yesterdays episode of '90 Seconds on The Verge'.
POLYNAUTS COMMENT OF THE DAY (6/9):
JRPG? What is a JRPG but an RPG with a J on it? First of all the term RPG is a misnomer as it actually refers to an recoiless rifle round shot out a tube, not a granade. But I digress. Since the advent of the JRPG Japanese anti-tank rocket systems haven't really progressed. This is because the core of an RPG is the simplicity, which most launchers in the class seem to lack. Also most settings in JRPG seem to lack a propulsion system that allows for a proper transferal of the explosive device without being in the blast radius yourself; the few that do seem to underutilize this feature.


The second issue with RPG's in general is the back blast. A very harmful blast is propelled out of the tube during launch which is the escaping air. Modern systems in other countries have found ways to minimize this, yet the JRPG is still stuck in this rut.


Finally I have issues with the guidance system. While Iron Sites are easy to use, yet complex enough that the pros can really bring out the potential in the device this issue is the new user. RPG's have a large training gap between new classes of launcher as there is no computer assist on the device at all. Perhaps I'm just using the iron sites wrong, but it seems like the RPG series just simply has the problem of being plain. It's boring to sit there and use sites that don't have 50 different icons on it. It's boring not to have a scope. It's boring not having lock on features. It's boring not to have 5 different buttons for something that only shoots rockets at things.


So everybody, this is why I can't get into JRPGs. I've been a fan of AT-4's so I've played with things like JRPGS, but I was wondering if anybody could explain the appeal of such a class?

LivingTarget (7 Recommends)
Every day there will only be one comment from the previous thread. It's decided based upon the most recommends an individual receives for their comment; should two people have the same rating then both comments will be posted.
Okay, there we have another days worth of catch-ups folks. Remember to sound off in the comments below and share any awesome news you find today. As always check out the @Polygon feed on Twitter to keep up to date, or feel free to hit me up at @shaunmcilroy if you want to chitchat throughout the day.
NOTES:
New to the Polygon Community? Please take time to read the Community Guidelines as laid out by the editorial team here at The Verge. Particularly take note here: "Foul language: Cussing, swearing, or just plain nasty: all of the above are not cool here." That goes for NSFW material as well folks - Mods DO police this place remember.
If you're a fan of the image up top and want to submit your own, remember to keep them coming in for this section of Polynauts Central, GIF's included, at this link. Finally, if you want to submit a header image for Crisis on Infinite Polygons you can do that on this thread.