iPhone 6/6c large version to be 5.7", have protuding camera? (updated with two new leaks)
Three independent rumors from relatively credible sources are agreeing on 5.7" as the size for the large, "phablet" version of the next iPhones. They also agree that an updated plastic iPhone (6c?) is in the works.
First, remember that guy on Weibo who leaked prototype iOS 8 screenshots (twice)? Mark Gurman (which has a 100% perfect track record on 40+ rumors) confirmed with several of his sources that they were legitimate.
So, we have reasons to think that guy on Weibo might have access to Apple prototypes and know things we don't. And here's what he tweeted not long after he posted the iOS 8 screenshots:
Next is the latest leak from MacFans (reported by Macotakara) which allegedly shows drawings of the 4.7" and 5.7" iPhone 6c. Again, the source alone doesn't have much credibility, but the fact Macotakara thinks it's real since it matches the information they got from their own sources gives credence to the drawings.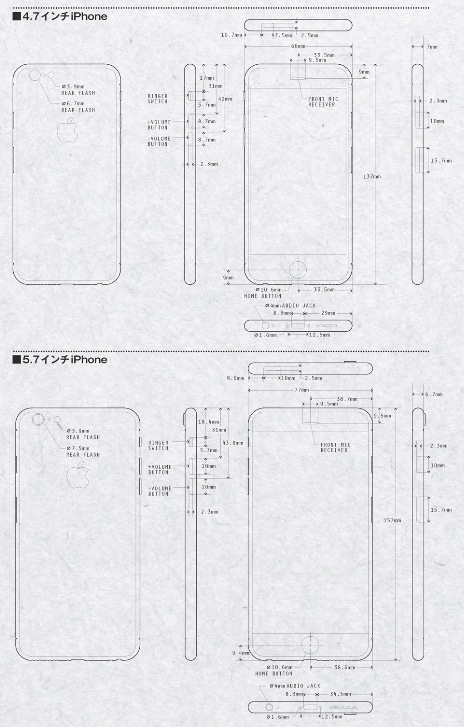 Macotakara has been a relatively reliable rumor source in the past and have been accurate about:
Finally, the last (and oldest) rumor is from Reuters, which, again, claimed 4.7" and 5.7" as sizes for the next iPhones. Reuters hasn't published a lot of Apple rumors so it's hard to determine how reliable they are, but it's worth noting that everything said in that same report ended up being real:
Apple releasing the 5s and 5c at the same time in September
The 5s to include a fingerprint scanner
The 5c to be available in 5-6 different colors
The 5c to be sold at the price of $99 (first to report that). Since nobody expected that kind of pricing at that time, that's the part that makes me believe it wasn't just an educated guess but that they did have insider sources.
Just to be clear, I'm not here to convince you 5.7" is the ideal screen size or anything. I fully expect some people to hate that size. I'm just trying to put rumors together and I'm starting to think the 5.7" rumors might be real.
I feel like we have reached that point with rumors where there has too much smoke to not there be a fire. It reminds me of when people were initially incredulous about the iPad mini, elongated iPhone 5, gold iPhone 5s and plastic iPhone 5c, but at some point there were just so much rumors about them left and right that people ended up believing them.
Thoughts?
Update:
Another Chinese source on Weibo is posting alleged official renderings of the iPhone 6 destined for manufacturing instructions at Foxconn, as well as an alleged iPhone 6 prototype in manufacturing stage.
What's interesting is that it appears to fall in line perfectly with the iPhone 6c drawings posted above: Same rounded edges, same protuding camera (on the large model), same bottom speaker grill design. Both also seem to include a new very wide sleep/wake button. The main difference would be that the 6c doesn't need antenna "windows" on the back since plastic is radio-transparent.
It appears the iPhone 6 will have antennas located at the same position as the 5/5s, but only have thin plastic gaps to let the signal go through instead of full glass windows, meaning a larger portion of the back is made from aluminium. This is pretty similar to what the HTC One did.
Update 2:
Nowhereelse.fr is also talking of a similar design based on information they got from their own sources. They posted that render displaying both iPhone sizes which they claim is the real deal: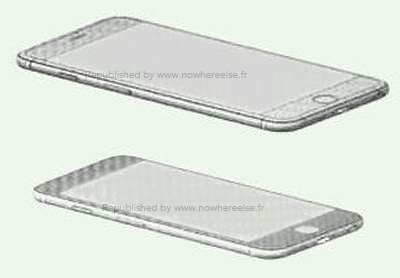 They also mention the same N56 and N61 codenames as that first Chinese guy on Weibo.