Google's main event of the year, I/O 2014, was chock-full of news: some expected, some decidedly not. The company showed off a colorful and playful new design style for all of its products, as well as a new version of Android, codenamed "L," that won't arrive until later this year. Google debuted a cheap but elegant Android One phone to court buyers on a budget. Android was everywhere at the developer conference: on smartwatches, in car dashboards, and even on your body with Android Fit, a new platform for fitness wearables and apps designed to rival Apple's HealthKit.
But the carefully planned announcements may have all been upstaged by two vocal protesters: one calling Google to task for San Francisco housing evictions and the other warning about killer robots. Both were quickly escorted from the scene. The developer conference continues through the week, but it's hard to imagine any bigger news coming after day one's lively keynote.
Cheap smartphones for the developing world
Android head Sundar Pichai started the keynote with some impressive stats: 1 billion active users, 20 billion texts and 93 million selfies a day. But that only covers a fraction of the world's population, and Google is ramping up its efforts to reach people who so far haven't been able to afford a smartphone. To some extent, its platform is already synonymous with low-cost smartphones, but Android One is a new set of hardware reference platforms designed specifically for developing markets, using stock Android and low-cost parts that are readily available. During the keynote, we saw an example developed in collaboration with Micromax: a 4.5-inch phone with dual SIM card slots and an FM radio that's supposed to cost under $100. The program is starting in India this fall, after which it will expand worldwide.
Material Design: a brand-new look for everything Google
Google's web products and its own Android mobile operating system haven't always meshed very well in terms of their visual design, but no longer. At I/O 2014, the company unveiled a unified design language called "Material Design," which will carry the same visual style across the web, Google's Chrome browser, and all Android mobile devices — including Google's new pack of wearables. Material Design is, in essence: colorful, minimalistic and airy, with lots of wide open spaces with more breathing room for text. But it's not totally flat: boxes of information slide over each other and disappear when not needed, and there are dramatic, almost movie-like animations for switching between tasks. It's clearly inspired by Google Now, the company's predictive personal assistant for Android phones. Google even created a whole new website showing off Material Design so that third-party developers can better tailor their apps to fit Google's new unified visual style.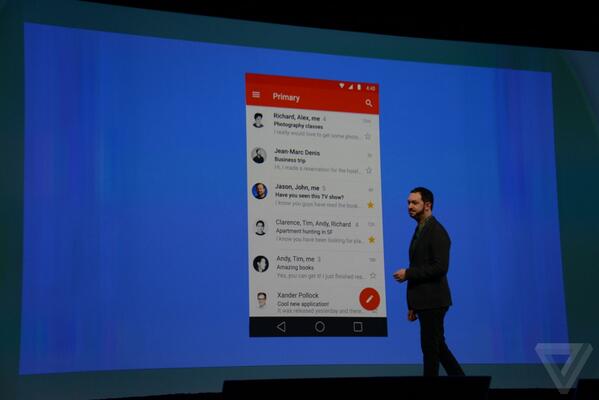 A sneak peek at Google's new OS
Android L, a new OS for your phone, car, tablet, and TV
Google today showed a sneak peak of the new version of Android coming this fall, codenamed Android L. L is a fresh look at how a software operating system should work, no matter what device you're using it on. L works inside cars, TVs, and mobile phones, and incorporating all the principles Google laid down in its Material Design principles while maintaining your favorite things about Android. The lock screen, for example, has been redesigned to show a notifications stack hovering over your wallpaper, which you can interact with or swipe away. Every button reacts when you tap it, and every card or button flies off-screen when you swipe on it, like Google's new interactive notifications. There are also some new, less design-centric features. With L you won't need a passcode to unlock your phone if you're wearing a smartwatch that you've paired, or if you're in your car. "Personal unlock" searches for familiar things nearby to check if your phone's with you, or if it might be somewhere else. Another important feature: when you Google something, relevant results might pop you directly into an app you've already installed.
Unified multitasking for your apps and Chrome tabs
It's time to mix up your tabs. Android L includes a feature called "recents" that stacks windows from Chrome, as well as your recently used apps, into one carousel that looks like a sheaf of little cards. It replaces Google's current app-switching interface, and while we don't yet know how useful it will be, it's supposed to give you an easier way to multitask. After all, Google is all about putting web content and phone apps on equal footing, and it wants you to be able to access both easily.
Search
Google search for the mobile web is getting a visual makeover with Material Design, the company's new unified visual style. Now when a user searches for any term that's visual — a movie, a historical figure, a piece of artwork — Google search will present the first result in its own carousel at the top of your phone or tablet's screen, with a colorful backdrop that automatically matches the colors of the image in front of you. The carousel of results is animated live on the web, allowing you to scroll through results from left to right smoothly. Google also says it's improved search within apps, so if you tap a restaurant reservation it will automatically open the OpenTable app, for example.
Precious battery life
Battery life has been a common complaint in the world of Android, and phone-makers like HTC have developed their own battery-saving apps. Now, it's an official component of Android L. Project Volta is Google's name for an overall battery-optimization push, and there's also a power-saving mode, which will supposedly help you wring some more life — Google says about 90 minutes — out of your phone.
Remote wipe and security
Android L includes a new "kill switch" that lets users remotely wipe their device even if it's been stolen and restored to factory settings. The feature, already implemented in iOS, has contributed to a decrease in thefts since it launched with iOS 7.
Design and UI
Today Google gave its first deep look at how Android Wear devices will actually work. In short, Android Wear is all about glanceable information, and about what Google Now can help you with at any given moment. For example, swiping up and down lets you navigate through Google Now cards like recent messages, reminders, notes, music controls, alarms, your heart rate, and a step counter. By tapping once on a sleeping Android Wear device, you can turn on voice controls to say something like "Okay Google, call me a car" (with the Lyft app). You can swipe horizontally to see more about any card, or swipe downward to turn on "do not disturb" mode so your phone and watch won't ring while you're at dinner or in a movie.
Google's first smartwatches are here today
Google and its partners have spent the past months showing off the smartwatch models that could run Android wear. Today, you can actually order two of them. The LG G is a large but modest-looking black square, a style we've already seen variations of from Samsung, Pebble, and others. But most of the buzz so far has been around the Moto 360, a large, round piece of glass and stainless steel that actually sort of looks like a traditional watch. You'll have to wait until summer to order the Moto 360, but LG's model will be available for order this afternoon. You can also order the Samsung Gear Live, which looks like an Android Wear version of the existing Tizen-based Galaxy Gear line. We don't yet have pricing and availability for the LG G, but the Gear Live will be shipping on July 7th for $199.99. The Moto 360, meanwhile, is rumored to be selling for $249.
Android Auto is coming this year
Phones, tablets, smartwatches, and TV — none are particularly unexpected for a computing platform. Android L, however, is also coming to your car. Google has officially announced Android Auto, which takes the familiar phone features people illicitly use while driving and puts them on an integrated display. You can "cast" your phone to the car's screen, which is supposed to be able to control the rest of the dials and buttons in the vehicle. It's focused on "navigation, communication, and music," along with a Google Now-style home screen that can give you a basic overview of what's going on. It's optimized for voice commands, which can be used to navigate with Google Maps, send messages with a speech-to-text API, and find and play music, among other things.
Google is trailing both Apple and Microsoft with this announcement. Apple's CarPlay — a simple, Siri-based iOS system — is officially coming to cars from Honda, Volvo, Mercedes-Benz, and others later this year, and Microsoft is testing a Windows-based interface; all three companies are hoping to replace automakers' default infotainment systems. Android Auto will be released along with Android L, both of which are coming before the end of 2014.
Apps and partners to drive Android Auto adoption
Google's bid to take over your car's dashboard, Android Auto, won't be available until later this year. But it's already off to a rolling start, securing the support of major automakers including Dodge, Chevrolet, Chrysler, Audi, and even Bentley. As for the apps that will work in your car, Google has a bunch of partners lined up here too: Spotify, Songza, Pandora, Pocket Casts, the MLB's At Bat app; all will be available for you to call up while driving using only your voice. The apps should also support touchscreen controls while you're stopped, and Google has a new SDK to get even more developers making Android apps for the car.
Google tries again to win your living room with Android TV
Google announced Android TV, the company's new software that runs on your TV or third-party set-top box. Android TV is like a Google Chromecast combined with an Apple TV. You can broadcast content to your TV, but also see a grid of popular content, apps, and games. Android TV is of course tied in closely with voice search and Google Knowledge Graph, meaning a voice search for "who played Katniss in The Hunger Games" or "Oscar-nominated movies from 2002" yield instant responses. There's now one Android software-development kit for all the company's Android form factors, so expect to see lots of Android TV apps soon. Apps work across Android platforms, too, so you can battle friends in NBA Jam from your TV even if they're using an Android phone. Sony and Sharp are producing Android-powered TVs and set-top boxes for launch in 2015.
Chromecast streaming 'through the cloud'
The $35 Chromecast TV dongle was announced just under a year ago, and Google brags that it's a top seller on Amazon and is outstripping sales of other streaming devices at retail stores. It's also adding a few new features. The most interesting one is the ability for users to stream content from anywhere instead of needing to be on the same Wi-Fi network as the Chromecast. We don't know exactly how it does this, but it gives users control over who can stream to their TVs and operates "through the cloud." A feature called Backdrop can run feeds of photos, news, weather, or art while you're not using the Chromecast, like a classy TV screen saver. And a "cast screen" button lets you directly mirror anything on your Android device to your TV as long as you're using a supported phone or tablet from Samsung, HTC, LG, or the Nexus program.
Android apps on Chrome
Later this year, some Android apps are going to start working on Chromebooks. Based on Google's demo of apps like Evernote and Vine, apps work very smoothly, and even let you take advantage of local hardware and cameras. In other words, you can shoot a Vine on your Chromebook. But this also means there's no touch-and-go interaction. To navigate through Flipboard you'll have to click and drag. Google says that it's still in "the early days" of letting developers port their apps to Chrome, however.
Google tears down the wall between Office and Drive
You can finally edit Microsoft Office files natively in Google Drive. It was always possible to switch between the two programs, but an update to Drive will remove the speed bump of converting and reconverting. There's also a new "suggested edits" feature, which will let multiple people write a document at the same time and track their changes, commenting on what other editors have written.
Google Fit tracks your fitness trackers
Earlier this month, Apple announced HealthKit, a meta-tracker for all iOS fitness apps. Now, Google is doing the same thing for Android with Google Fit. A set of APIs lets app and peripheral makers feed data into a centralized fitness stream, as long as the user gives permission. Google has gotten some major partners on board, including Nike, which is even adding its "Fuel" number to the Fit stream so other apps can use it.
Google VR
How do you end three hours of talking about mobile operating systems, programming, smartwatches, cars, and cloud storage? With virtual reality goggles, obviously. Google wrapped up its event by giving attendees a cardboard frame, which they could put together and pair with an Android phone for a makeshift VR headset. If you're willing to buy some lenses and other simple components, you can build your own at home. This is far from a new idea -- it's been one of the go-to methods for homemade virtual reality -- but it was a fitting end to an I/O that covered just about everything Google's software does.